About Us
Reliable Leaders
NB Energy Marketing is a wholly owned subsidiary of NB Power. Since 1999, NB Energy Marketing has been the exclusive marketer of NB Power's surplus power and surplus capacity. Over time, we have grown from an energy marketing desk to the New Brunswick Energy Marketing Corporation, moving in step with NB Power's evolution from a simple utility to an innovative, low emitting organization.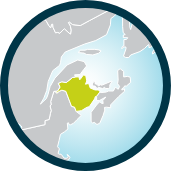 NB Energy Marketing has access to a diversified energy portfolio to support our trade activities. The surplus capacity of the NB Power generating system combined with strategic interconnections to Quebec, PEI, Nova Scotia and Maine have helped to establish NB Energy Marketing as a partner of choice within Canada, New England and neighbouring regions.
A highly trusted and reliable energy trader, NB Energy Marketing strives to meet the many needs of our customers while providing economic benefits for New Brunswickers. Our business is strengthened by robust risk management, significant market analysis and an experienced team who offer a broad range of energy products and management services 24/7.